Steady (slow flow)
This class is taught by: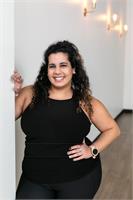 Hi, my name is Ashley Yono.
I found yoga in 2014, when I happened to stumble upon a deal I found online. I thought I would just try it and see what happened, expecting another workout class I would not be good at, but I wanted to give it a shot. Sitting down for my first class, I never would have known then that my life would be forever impacted by this practice. I have always struggled with body issues and the ability to find love for myself. This practice has helped me immensely to overcome those challenges and find appreciation for my body. Yoga has been an amazing tool to help me on the road to self-trust. I wanted to spread the love that I found in my classes with others as well - that is when I started my yoga teacher training in 2016. I started teaching as soon as I graduated! I want people to be able to show up for themselves and to find that safe space on the mat. Yoga does not care what you look like, no matter your shape, size, race, sexuality, or gender. As long as you can breathe, you can join in this beautiful practice. See you on the mat!
Our slow-burn hatha style is a fully guided foundation-building slow grounded flow.Most forms of yoga in the West can be classified as Hatha Yoga. Hatha simply refers to the practice of physical yoga postures, meaning your Ashtanga, vinyasa, Iyengar and Power Yoga classes are all Hatha Yoga. Focused on going deeper into the breath, you are encouraged to keep your eyes closed on this inward journey, enhancing the ability to pay attention to feelings, and relax into your body even in periods of discomfort. Working to build endurance, we explore the balance of effort and ease using slower, cumulatively deeper pose sequences with longer holds designed to engage and strengthen not only the major muscle groups but to functionally integrate the entire body. In this slower yet challenging practice, within the boundaries and framework of personal individual expression, "everybody" is presented the opportunity to articulate both breath and posture. A longer Savasana rests and restores body and the mind.
Upcoming classes: