Steady (slow flow)
This class is taught by: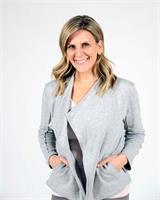 My main focus as a teacher is to help folks practice compassion, experience joy & live wholeheartly. I act as a guide to break away from our cultural ideal of perfectionism to help folks live with more freedom. I love quotes, feeling inspired, connection, community & good music (the kind that makes you want to sing along). The practice of yoga has taught me that the true yoga is living off my mat. It is in the realness of a conversation, laughter & tears shared, and embracing authenticity. Throughout the years, I have done several yoga and therapy trainings. My journey as a yoga teacher started in 2007 and I will forever be a student of life.
"A moment of self-compassion can change your entire day. A string of such moments can change the course of your life." Christopher Gemer
Our slow-burn hatha style is a fully guided foundation-building slow grounded flow.Most forms of yoga in the West can be classified as Hatha Yoga. Hatha simply refers to the practice of physical yoga postures, meaning your Ashtanga, vinyasa, Iyengar and Power Yoga classes are all Hatha Yoga. Focused on going deeper into the breath, you are encouraged to keep your eyes closed on this inward journey, enhancing the ability to pay attention to feelings, and relax into your body even in periods of discomfort. Working to build endurance, we explore the balance of effort and ease using slower, cumulatively deeper pose sequences with longer holds designed to engage and strengthen not only the major muscle groups but to functionally integrate the entire body. In this slower yet challenging practice, within the boundaries and framework of personal individual expression, "everybody" is presented the opportunity to articulate both breath and posture. A longer Savasana rests and restores body and the mind.
Upcoming classes: