Synergy (fusion)
This class is taught by: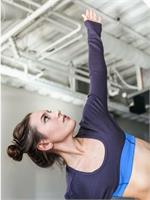 Hi! My name is Anjali and I discovered yoga at the age of 14. It was there, in a room full of sweaty people, falling over on my yoga mat, I felt an instant connection.
For many years I have been faced with body imagine issues. I struggled for such a long time to make peace with myself as a whole. After a couple years of yoga I started to realize that I am so much more than just a body, everyone is! Soon enough, I was able to deepen my practice and finally made some room for self love and self acceptance.
We learn in yoga that it is a process of release, letting go, in order to create space for better things. We learn that life does not have to be taken so seriously, and stumbling is part of the process no matter if we are on the mat or off.
We take a little bit of knowledge in every time we step onto our mats, and we welcome awareness. When people ask me why I decided to pursue teaching yoga, my response is always the same:
If I am able to help lead anyone else down that path of healing, self love, acceptance, patience and happiness, then it is all worth it.
This is why I teach, to give back. Working to make a space for others to connect, grow and build a loving relationship within.
"Where you are, is not who you are. -Circumstances." -Nayyirah Waheed
Can't wait to share the space with you!
-Anjali Romaniuk
Our signature "power" yoga style is a fusion of Strong and Steady, ending with a little Still. By blending the detoxifying qualities of a vinyasa with the intensity of a slow burn we create an invigorating full-body flow where everybody can explore postures and principles while increasing strength and stamina. Start burning away toxins by generating heat with flowing Vinyasa movements of Ashtanga based Sun Salutations linked to the breath. Slowing down and stoking the fire with our breath, we focus on maintaining alignment and structural integrity with longer holds exploring standing, balancing, and even basic inversions. Confidently build endurance and increase flexibility, by aligning to the best version of yourself, working to explore the potential inside before recharging with a deep, relaxing savasana and stepping back into life outside.
Upcoming classes: