Marni Stone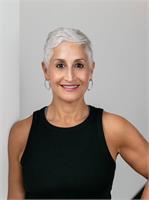 Marni Stone has a Master's Degree in Social Work and has been working in the field of health and wellness for over 25 years. She holds a variety of fitness certifications and has completed 2-200 RYT Yoga Certifications. She teaches everything from TRX classes to senior fitness, but believes that true wellness requires attention to more than just our physical selves. She has been practicing and teaching yoga sine 2004 and has found it to be the most gratifying of all the classes she teaches.
Marni's background in anatomy and alignment can be seen in every style of yoga that she teaches, as is evident in the way she sequences her yoga flows, and guides students between postures. She creates a safe environment for students to reach their edge in a pose, but reminds them to do so without ego. She creates complex but sensible flows while encouraging students to become their own teacher by monitoring their breath and their internal guidance system.
Marni encourages her students to practice without judgment or comparison, to move beyond the physical appearance of a pose towards more of an inward state of awareness. She believes that the greatest gift of yoga is to apply the lessons we learn on our yoga mat to other areas in our lives. Namely, that when we quiet the voice of our negative ego, and choose to connect to the peace and love within us, it helps us create more satisfying and joyful experiences.
I look forward to practicing with you soon,
Namaste,
Marni
Marni Stone instructs the following:
Slow Flow

is for those looking to experience a physically slower moving class. We will be holding postures that cover the entire body and focusing on the

breath

which will help to create a supple and toned body. This class is soft and smooth but

always

challenging.




Fusion is heated, a blend of flowing and holding. Create internal heat with sun salutations then the class shifts to a slower pace, holding postures. Recommended for students with some yoga experience.




Fusion between Slow Flow and Yoga Rocks




Lunch Shot Yoga is when you need a pick me up in the middle of your day. Forget about a shot of espresso, try a shot of yoga. Join us for this challenging yet gentle mid-day breakout offering an opportunity for you to get your practice in and reset your day without returning to your desk in a heap of sweat.