Anjali Romaniuk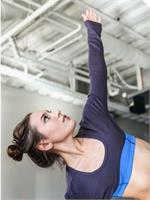 Hi! My name is Anjali and I discovered yoga at the age of 14. It was there, in a room full of sweaty people, falling over on my yoga mat, I felt an instant connection.
For many years I have been faced with body imagine issues. I struggled for such a long time to make peace with myself as a whole. After a couple years of yoga I started to realize that I am so much more than just a body, everyone is! Soon enough, I was able to deepen my practice and finally made some room for self love and self acceptance.
We learn in yoga that it is a process of release, letting go, in order to create space for better things. We learn that life does not have to be taken so seriously, and stumbling is part of the process no matter if we are on the mat or off.
We take a little bit of knowledge in every time we step onto out mats, and we welcome awareness. When people ask me why I decided to pursue teaching yoga, my response is always the same:
If I am able to help lead anyone else down that path of healing, self love, acceptance, patience and happiness, then it is all worth it.
This is why I teach, to give back. Working to make a space for others to connect, grow and build a loving relationship within.
"Where you are, is not who you are. -Circumstances." -Nayyirah Waheed
Can't wait to share the space with you!
-Anjali Romaniuk
Anjali Romaniuk instructs the following:









Slow Flow

is for those looking to experience a physically slower moving class. We will be holding postures that cover the entire body and focusing on the

breath

which will help to create a supple and toned body. This class is soft and smooth but

always

challenging.