Kayla Spray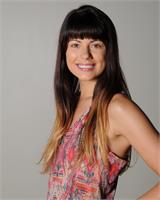 I found yoga half way through my undergrad at Wayne State University. For as long as I can remember I suffered from sever stress and anxiety. At the age of eighteen I was told I had extremely high blood pressure related to stress. I'd never really been the type of person to work out in a gym and after hearing about the number of benefits of yoga including reducing stress I figured I should give it a try.
After my first month of practicing I began notice subtle changes in my everyday life. It wasn't until I found the Yoga Shelter that I began to develop a consistent practice. Not only was my body growing healthier but so was my mind. I finally asked for a job at the Royal Oak studio because I knew that leaving my bar-tending job was the next step in truly changing my life. I have never been a part of a more supportive community than I was here, these people forgave me when I made mistakes and encouraged me to make better decisions. Most of all I made more friends than I had ever had before.
That year I decided to attend a RYT 200 training and it forever changed my life. As a philosophy major I began emerging myself in Vedanta, a spiritual philosophy that strengthened my yoga practice and understanding. It just made sense and gave me the knowledge to continue shedding unhealthy behaviors and relationships and develop a new connection with myself. My entire life I have searched for a way that I can help people and yoga has helped me find that within myself.
Now as a teacher nothing fills me with more joy then giving my students the motivation to challenge themselves physically and mentally both on the mat and off. Yoga has become more than a practice but a lifestyle, one that has allowed me to connect with a number of magnificent individuals. Yoga has improved my life more than I ever imagined and I can only hope to be able to share this practice with as many people as possible.
Kayla Spray instructs the following:












Aerial Yoga is a unique and fun way to practice yoga. No previous experience necessary to attend the All Levels class. You will gain upper body and core strength, support your backbends, increase flexibility and safely practice inversions. Maximum of 8 students and each student is assigned to their own hammock. Yoga mats are still needed. Pre-registration and pre-payment required. $20 per class and no class packages can be used. There is a minimum of 3 people registered to hold each class. Call (248) 650-9642 or email Brandi@yogashelter.com to confirm space in class.




Fusion is heated, a blend of flowing and holding. Create internal heat with sun salutations then the class shifts to a slower pace, holding postures. Recommended for students with some yoga experience.