Melissa Wolak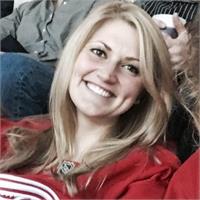 Yoga found me during my junior year of college were I was over-working, over-stressing, and over-running. I somehow found myself in a Vinyasa yoga class because it seemed to be gaining popularity and I figured I would give it a shot. After realizing how far away my toes actually were in a forward fold and trembling/shaking my way through my first pigeon, I realized that this "yoga thing" was no joke. As my perfectionist self, I was determined to get better at all of these poses and get into a headstand just as effortlessly as the girl on the mat in front of me. With time and lots of sweat, the poses because easier, but the most enlightening part was that my life did as well. All of the stress and work and fears and worries somehow left me when I came into those four walls and simply found a way to let go and be in the moment- working hard, yet accepting where I was all at the same time.
Six years later, yoga is a part of my life and I carry my yoga breath with me everywhere I go. I enjoy teaching others not only the correct postures, but enjoy seeing them leave with a smile on their face and a calm in their spirits that wasn't present at the beginning of class. I love bringing laughter, smiles, and challenge into my classes and look forward to making students feel at ease in our time together!
Melissa Wolak instructs the following:
Our slow-burn hatha style is a fully guided foundation-building slow grounded flow.Most forms of yoga in the West can be classified as Hatha Yoga. Hatha simply refers to the practice of physical yoga postures, meaning your Ashtanga, vinyasa, Iyengar and Power Yoga classes are all Hatha Yoga. Focused on going deeper into the breath, you are encouraged to keep your eyes closed on this inward journey, enhancing the ability to pay attention to feelings, and relax into your body even in periods of discomfort. Working to build endurance, we explore the balance of effort and ease using slower, cumulatively deeper pose sequences with longer holds designed to engage and strengthen not only the major muscle groups but to functionally integrate the entire body. In this slower yet challenging practice, within the boundaries and framework of personal individual expression, "everybody" is presented the opportunity to articulate both breath and posture. A longer Savasana rests and restores body and the mind.