Anisa Saleh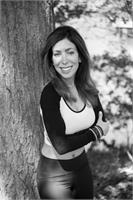 HI, I'm Anisa Saleh, RN, and I fell in love with the practice of harmonizing my body, mind,and spirit through breathing at my first yoga class over 10 years ago. Regular exercise has always been a priority for me, but I was searching for inspiration to live each moment more mindfully and to nurture my soul. I was a bit nervous to begin yoga classes because I always had the impression that I had to be able to stand on my head and do a crow pose to be a "true yogi." Yoga put me in a place where I could feel my ego abandon me as I found myself melting into my mat.
It wasn't until 2014 that I decided to become a certified instructor and earned my 200 hour RYT through Power Yoga Chicago. In the past I've always chosen to sub instead of having my own class, but Yoga Shelter shares an amazing bond and energy that I had to be a part of. You will find the nurse in me spouting off health benefits during poses, and I lead my classes with my love for alternative and classic rock - and a combination of other genres.
My goal as an instructor is for my students to leave feeling refreshed, nourished, and balanced both physically and mentally. Yoga knows no color, race, religion, sex, gender, or size. I look forward to meeting you on the mat!
Anisa Saleh is currently not instructing any classes.