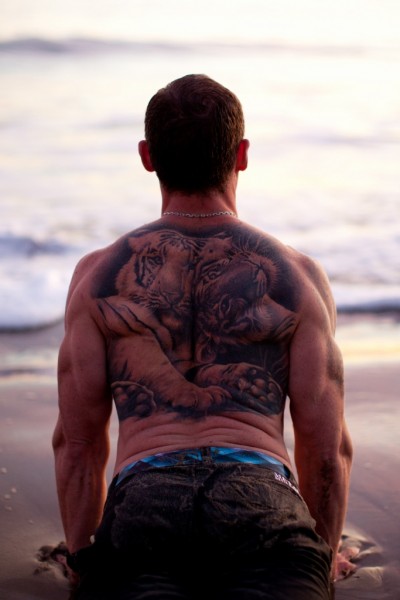 The tattoo on my back was done over approximately 50 hours and 15 sittings in 2006 by Jay
Wheeler. I chose the tattoo because it symbolizes love, warmth, and companionship – juxtaposed with what we all know about tigers. That they are fierce, independent, intelligent and willing to do whatever it takes to survive. I have all these traits within me, and this tattoo represents them all.
The tattoo also reminds me of the most valuable lesson yoga has taught me – to stay calm, focused and react only when I have assessed a situation with my intellect. Plus, felines are the ultimate yogis!
FYI – these photos were taken two years after I arrived in California in a wheelchair and being bedridden for 9 months. Thanks to yoga and the Yoga Shelter, I am healthier mentally and physically than I have ever been.
Rob Woollard, 43yrs old, Studio City, California
Yoga Instructor for 14 years